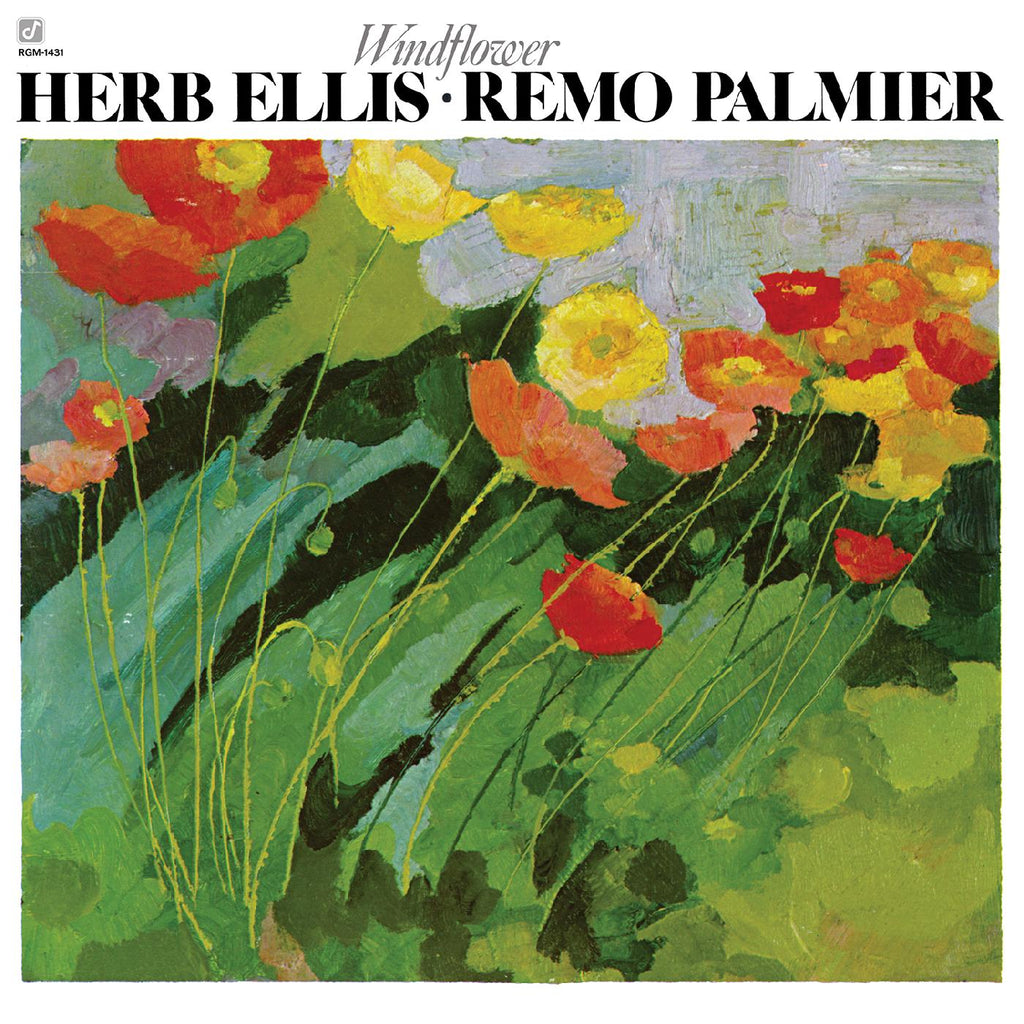 Herb Ellis & Remo Palmier Windflower LP
WEBSTORE EXCLUSIVE VARIANT IS LIMITED TO 1 PER CUSTOMER/HOUSEHOLD IF YOU PURCHASE MORE THAN 1 YOU WILL BE REFUNDED.
Herb Ellis & Remo Palmier: Windflower (Limited Yellow and Orange Marble Vinyl Edition)  LP Real Gone Music Webstore Exclusive LIMITED TO 100 COPIES 
Herb Ellis & Remo Palmier: Windflower (Emerald Green Vinyl Edition) LP Regular Version
Originally released on the Concord label, this masterful 1978 meeting of jazz guitar giants has quietly become one of the most collectible albums of its era. Herb Ellis and Remo Palmier (a.k.a Palmieri) were contemporaries in the red-hot NYC jazz scene of the '40s, but they arrived at this recording through very different routes. Ellis' reputation steadily grew as he went from being a sideman in the Glen Gray and Jimmy Dorsey orchestras to being a mainstay in the Oscar Peterson Trio in the '50s, and later playing in a guitar trio with Barney Kessel and Charlie Byrd. Palmier, on the other hand, got his career off to a blazing start, playing with Coleman Hawkins before appearing on seminal bebop sides (e.g. "Groovin' High") with Charlie Parker and Dizzy Gillespie. But then, health issues intervened, and Palmier spent the next three decades or so working a staff job at CBS for The Arthur Godfrey Show. Finally, after the show was canceled, Palmier re-entered jazz circles but never really recorded much, which only makes Windflower that much more of a treasure. "Sublime" is the word that springs to our mind, but you can substitute your own superlative; backed by George Duvivier on bass and Ron Traxler on drums, Ellis and Palmier bring an organic sense of swing, beautifully-voiced chords, and lyrical lead lines to such fare as "The Night Has a Thousand Eyes," "Groove Merchant," and even "Danny Boy." Produced by Concord label founder Carl Jefferson. First-ever reissue, emerald green vinyl!
Side One

1. Windflower
2. The Night Has a Thousand Eyes
3. My Foolish Heart
4. Close Your Eyes
5. Danny Boy

Side Two

1. Walkin'
2. Stardust
3. Triste
4. Groove Merchant