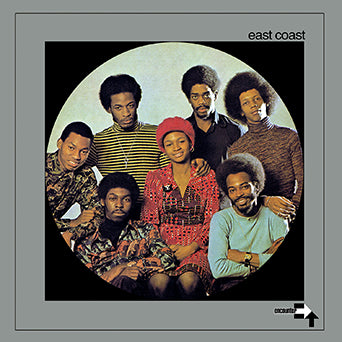 East Coast East Coast LP
EXCLUSIVE VARIANT IS LIMITED TO 1 PER CUSTOMER/HOUSEHOLD IF YOU PURCHASE MORE THAN 1 YOU WILL BE REFUNDED.
East Coast: East Coast (Limited Dark Grey VInyl Edition) LP Real Gone Music Webstore Exclusive LIMITED TO 150 COPIES 
East Coast: East Coast (Fire Orange with Black Streaks Vinyl Edition) LP Regular Version
The only conceivable reason this 1973 album isn't generally recognized as a soul-funk classic is because it came out on Bernard Purdie's Encounter label, which mustered only five LP releases before it folded. Not only does East Coast boast the inimitable vocal stylings of the great Gwen Guthrie (only her second appearance on record), but it also features the recording debuts of two Cameo stalwarts, keyboardist Gregory Johnson and bandleader Larry Blackmon! Right from the opening track, "I Found You," a frenzied funk number featuring call-and-response duels between Guthrie's vocals, fuzz guitar, and a somersaulting horn section, this record cooks, and its stylistic range is breathtaking, veering from the sunshine soul of "Something Deep Inside" to the psychedelic dirge-rock of "You Can't Let It Get You Down." Remastered for vinyl by Mike Milchner of Sonic Vision for its first-ever LP reissue, East Coast comes with its original gatefold jacket art housing a fire orange with black streaks pressing that's every bit as hot as it looks. Highly collectible and highly recommended!
Side One

1. I Found You
2. Keep On Trying
3. Miss Gigi

Side Two

1. Any Thing You Have in Mind
2. Something Deep Inside
3. I've Got to Reclaim You
4. You Can't Let It Get You Down