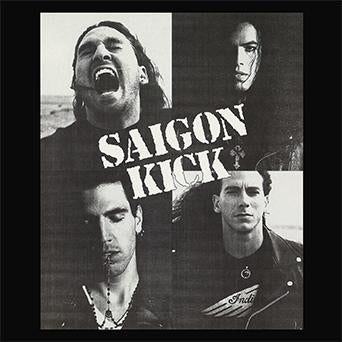 Saigon Kick Saigon Kick LP
The gleefully raucous 1991 self-titled debut from this Miami band covered all the alternative and heavy metal bases, and while it didn't score a commercial home run, it was still a prodigious clout (kick?) courtesy of guitarist/songwriter Jason Bieler! In between classic metal tunes like "Coming Home" and "Ugly," Saigon Kick offers everything from grunge-y punk ("What Do You Do," "Acid Rain") to power ballads ("Love of God") to even a couple of quite funny pop songs (the neurotic "My Life" and the homo-erotic "Down by the Ocean"). Since it arrived in the early-'90s "dead zone" for vinyl, Saigon Kick originally came out on LP only in Europe, and original copies go for a pretty penny, er, euro...our release comes in a deep purple vinyl pressing limited to just 1500 copies! Includes lyric sheet/inner sleeve.
Side One

1. New World
2. What You Say
3. What Do You Do
4. Suzy
5. Colors
6. Coming Home
7. Love of God

Side Two

1. Down by the Ocean
2. Acid Rain
3. My Life
4. Month of Sundays
5. Ugly
6. Come Take Me Now
7. I.C.U.