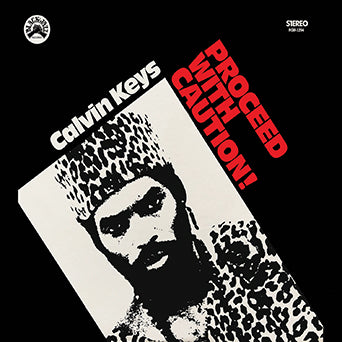 Calvin Keys Proceed with Caution LP
EXCLUSIVE VARIANT IS LIMITED TO 1 PER CUSTOMER/HOUSEHOLD IF YOU PURCHASE MORE THAN 1 YOU WILL BE REFUNDED.
Calvin Keys Proceed with Caution (Clear with Black Splatter) LP Real Gone Music Webstore Exclusive LIMITED TO 300 COPIES 
Calvin Keys Proceed with Caution (Remastered Edition) LP Regular Version
Bay Area jazz guitar legend Calvin Keys released his debut solo record, Shawn-Neeq, in 1971, and it remains one of the most beloved albums on the Black Jazz label. But that record was mere prelude for 1974"s Proceed with Caution; this time around, the arrangements were more complex, the instrumentation more diverse. In short, a quantum leap forward; indeed, as Calvin tells Pat Thomas in his liner notes for the release, 'I started going to the Los Angeles School of Music studying orchestrations and I was putting it to use!' And he recruited the band to fulfill his ambitious musical visions to their fullest, including legendary drummer Leon 'Ndugu' Chancler, fellow Black Jazz mainstays Henry Franklin on bass and Kirk Lightsey on keyboards, and Charles Owens (Horace Tapscott, Buddy Rich, Terry Callier, John Mayall) on sax and flute. Despite being hugely collectible, Proceed with Caution has never been reissued on vinyl before; our newly remastered edition is also available on CD!
Side One

1. Proceed with Caution
2. Tradewinds
3. Efflugence

Side Two

1. Aunt Lovey
2. Renaissance
3. Night Cry