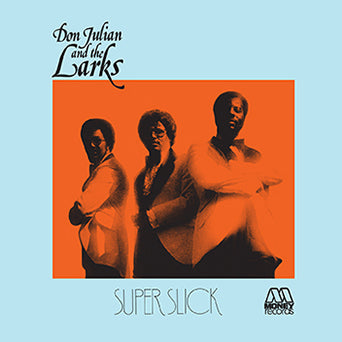 Don Julian and the Larks Super Slick LP
EXCLUSIVE VARIANT IS LIMITED TO 1 PER CUSTOMER/HOUSEHOLD IF YOU PURCHASE MORE THAN 1 YOU WILL BE REFUNDED.
Don Julian & the Larks: Super Slick (Limited Fire Vinyl Edition) LP Real Gone Music Webstore Exclusive LIMITED TO 200 COPIES 
Don Julian and the Larks: Super Slick (Blue Vinyl Edition) LP LP Regular Version
One of the holy grails of '70s soul-funk collectors finally gets a proper reissue (and yes, original copies of this 1974 release on the Money label will cost you a lot of, er, money)! Don Julian was a Los Angeles-based doo wopper who got his start leading The Meadowlarks, who recorded a number of sides for Dootone Records. The Meadowlarks then became The Larks, who, like so many other R&B groups of their era, achieved one hit wonder immortality with a dance craze song, 1964"s 'The Jerk.' They spent the rest of the '60s trying to recapture that magic with tracks like 'Soul Jerk' and 'The Penguin' (on Jerk Records, natch) before resurfacing with a couple of longplayers on the Money label. But this is where things get a little murky. The group also recorded a soundtrack for a long-rumored, never seen blaxploitation film called Shorty the Pimp (supposedly Quentin Tarantino has the only copy). In 1998, Ace Records assembled tracks from the Shorty the Pimp score on a CD release, but while seven of the ten tracks on Super Slick appear on that collection, many of them differ markedly from their soundtrack incarnations. So, the how, when, and where of this recording remain very much a mystery. But no matter; with its blend of Isaac Hayes, Curtis Mayfield, 'Papa Was a Rolling Stone'-era Temptations, and '70s sweet soul (e. g a cover of David Gates & Bread's 'Make It with You'), Super Slick wears its influences very much on its sleeve while transcending them with soaring, falsetto-filigreed harmonies, percolating bass, and note-perfect arrangements. Trivia note: that's Richard Berry of 'Louie Louie' fame doing the deep-voiced spoken word parts on 'Super Slick' and 'Shorty the Pimp.' We're pressing this in blue vinyl to match the album cover'this is a reissue that's been a long time comin'!
Side One

1. Super Slick
2. (Ooh Baby) I Love You
3. Shorty the Pimp
4. Make It with You

Side Two

1. Show and Tell
2. Just My Imagination
3. Schoolin and Foolin
4. Respect Yourself
5. A Woman Ain't Nothing but a Stone Trip
6. Let's Stay Together