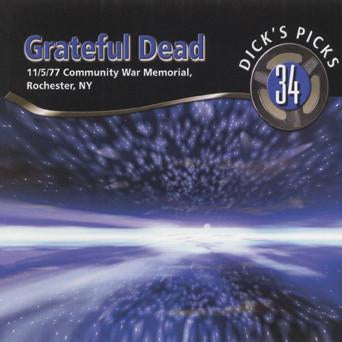 Grateful Dead: Dick's Picks 34
Grateful Dead: Dick's Picks Vol. 34—Rochester, NY 11/5/77 (3-CD Set)
This three-CD set won raves from the Dead collector community both for its pristine sound (mastered in HDCD) and blazing performances (check out the ever-ascending version of The Other One in the second set). Includes the complete 11/5/77 show from the Community War Memorial in Rochester, leavened with some particularly inspired excerpts from the 11/2/77 show at the Seneca College Field House in Toronto.
DISC ONE
(Set One)

1. New Minglewood Blues
2. Mississippi Half-Step Uptown Toodeloo
3. Looks Like Rain
4. Dire Wolf
5. Mama Tried
6. Big River
7. Candyman
8. Jack Straw
9. Deal

DISC TWO
(Set Two)

1. Phil Solo
2. Take a Step Back
3. Eyes of the World
4. Samson & Delilah
5. It Must Have Been the Roses

(Bonus Tracks)

6. Might as Well
7. Estimated Prophet
8. St. Stephen
9. Truckin'
10. Around and Around

DISC THREE
(Set Two Cont.)

1. Estimated Prophet
2. He's Gone
3. Rhythm Devils
4. The Other One
5. Black Peter
6. Sugar Magnolia;
7. One More Saturday Night

(Bonus Tracks)

8. Lazy Lightning
9. Supplication.