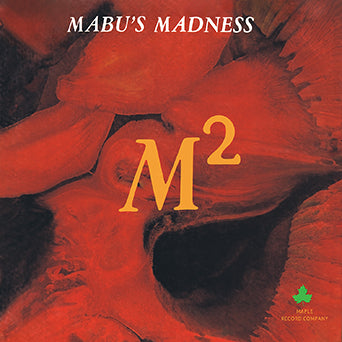 Mabu's Madness M-Square LP
EXCLUSIVE VARIANT IS LIMITED TO 1 PER CUSTOMER/HOUSEHOLD IF YOU PURCHASE MORE THAN 1 YOU WILL BE REFUNDED.
Mabu's Madness: M-Squared (Limited Clear with yellow and red pigment swirl Vinyl Edition) LP Real Gone Music Webstore Exclusive LIMITED TO 100 COPIES 
Mabu's Madness: M-Squared (Fire Orange with Black Streaks Vinyl Edition) LP Regular Version
Another insanely rare and highly coveted soul-funk gem from the tiny Maple label, which was part of Sylvia Robinson's All Platinum empire, and punched way above its weight when it came to '70s R&B. The one creative constant at the imprint was producer Johnny Brantley, who worked with everybody from Lee Moses to the Ohio Players to Lou Donaldson and even produced some early sides with Jimi Hendrix. Brantley is again behind the board for this 1971 one-off, which was led by drummer/singer/arranger Brad "Mabu" Young; it's full of funky surprises, not the least of which is the horn section playing "Sparks" from The Who's Tommy during "Do the Best You Can!" M-Square sells for hundreds of dollars if you can find it, but you probably can't; our first-ever LP reissue-remastered for vinyl by Mike Milchner at Sonic Vision-comes in a fire orange with black streaks pressing limited to 1400 copies!

Side One

1. Do the Best You Can
2. Show Me How
3. Seize the Time
4. Mind Your Business

Side Two

1. She Turns Me On
2. In Your Day
3. Why Don't You Shake Yourself
4. We'll Make You Proud