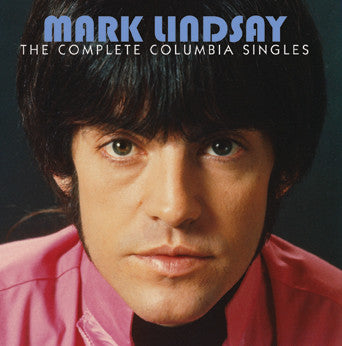 Mark Lindsay CD
After a spectacularly successful stint as the lead singer and saxophonist for Paul Revere and the Raiders, Mark Lindsay commenced a solo career for Columbia that cemented his reputation and legacy as one of the truly great pop-rock singers of the '60s and '70s.

Now, for the first time, all of his singles for the label—plus an unreleased track, a stunning version of Tim Hardin's "Reason to Believe" that was originally slated to be one side of Mark's first solo single—have been collected on to CD in one place in chronological order and in their original commercial format (which means mono on the first five tracks, stereo on the rest). Most of these original single mixes have never appeared on CD before.
The accompanying booklet features photos from Mark's private archive, and liner notes by Ed Osborne that feature interviews not only with the artist himself but also with Jerry Fuller, Artie Butler and Tom Bahler, all of whom worked on these singles.
Spanning his entire solo career with Columbia, carefully mastered by Vic Anesini at Battery Studios in New York, and representing his finest work for the label, these recordings render all other Mark Lindsay solo collections superfluous.
Reason to Believe (Previously Unreleased); First Hymn from Grand Terrace; The Old Man at the Fair; Arizona; Man from Houston; Miss America; Small Town Woman; Silver Bird; So Hard to Leave You; And the Grass; Won't Pay No Mind; Funny How Little Men Care; Problem Child; Bookends; Been Too Long on the Road; All I Really See Is You; Are You Old Enough; Don't You Know; Something Big; Pretty, Pretty; California; Someone's Been Hiding; Mamacita; Song for a Friend; Photograph